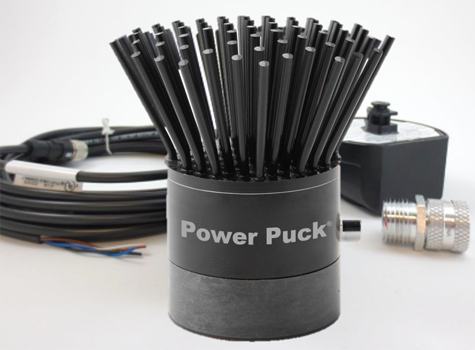 Power Pucks are thermoelectric energy harvesters for use with Emerson wireless transmitters using the black power module.  From readily available warm-to-the-touch surfaces, Power Pucks can power transmitters at the maximum update rates for the life of the transmitter. 
Configurations are available for most heat sources, including flat and curved surfaces, with temperatures up to 840 degrees Fahrenheit.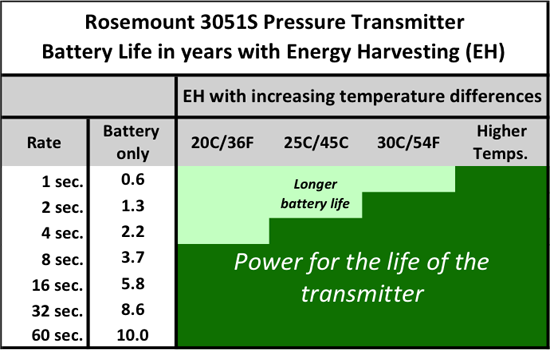 Power for the life of the transmitter
Power Pucks offer a self-sustaining system that significantly increases battery life. This chart shows how much additional battery life you get with varying temperature differences for the Rosemount 3051S Pressure Transmitter. For example, at 30 degrees Celsius temperature difference (54 degrees Fahrenheit) and up, energy harvesting provides power for the life of the device being powered at a 2-second update rate.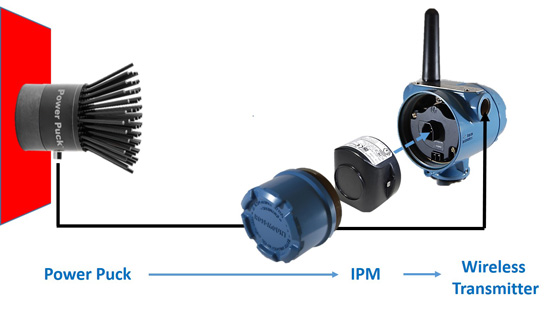 Easily connect to transmitters
Power Pucks connect quickly to the transmitters using Intelligent Power Modules (IPMs) that allow for connecting to Emerson transmitters.  IPMs are direct replacements for black power modules and include the exact same back-up batteries to power the transmitters any time the temperature difference falls below the threshold for energy harvesting.
Install on warm equipment surfaces or pipes
Install Power Pucks on any warm surface near the transmitter.  Warm-to-the-touch industrial equipment typically produces sufficient temperature differences between the surface and the ambient air to power the transmitter.  Adapters are also available for pipes and can accommodate mounting on surfaces up to and over 800 degrees F.